There is a simple trade-off: Without proper garage door maintenance, the system will need repairs more often, and unexpectedly in most cases. Every time when something goes wrong, the door's safety, security and operation will be compromised. With proper care, you can avoid many such moments.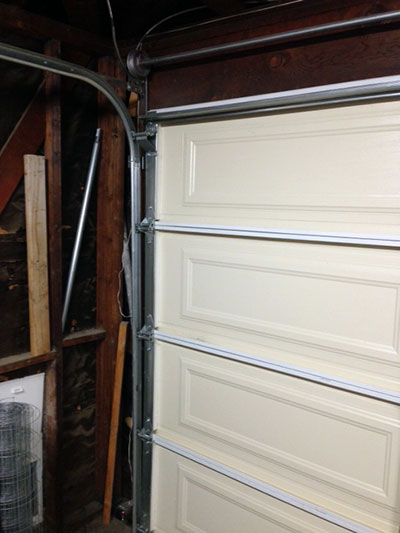 Torsion Spring Testing
This is one of the most important tasks on the agenda as it shows how well this component works. The test begins with releasing the opener. The next step involves lifting the door until it is open halfway and releasing it. When the spring is loaded with optimal amount of force for balancing the door, the unit will stay in place. If there is too much force the door will go up, and if there is too little the unit will go down quickly. The force should be reduced or increased without delay. The adjustment is all about unwinding or winding the spring respectively.
Panel Maintenance
A quick check will show any damage to the panels. Wood ones are at risk of decay. The affected areas are darker and much softer to touch. Steel panels should be checked for rust. The bottom one is at the highest risk of damage. The sooner problems are fixed the better. The next step is cleaning. Cobwebs are easy to remove with a broom. It is possible to use specially formulated safe cleaner for steel panels or a solution of liquid detergent and water. For wood ones, careful wiping with damp cloth is perfectly sufficient. It is best if the panels are repainted once a year.
Opener Lubrication
No matter whether you have a chain, screw or belt drive opener, it will need lubrication. In the first two cases, the chain or spinning rod should be lubricated. It is best if the product is applied in one inch sections several inches apart. Even if you have a belt drive unit, the areas where friction occurs between the trolley and the rail should be lubricated as well. It is important to run one or two cycles after the job is done. This allows for the lubricant to get perfectly well spread.
Sick and tired of regular maintenance? Let us do it for you. At Garage Door Repair in Dunedin, we provide a comprehensive service on a scheduled basis. Count on us to take care of each and every component from the panels and hardware to the opener and its accessories. We fix and replace damaged and faulty components on the spot.
To get professional help from us, call us or leave a message.
Browse our website to learn more about our services.