All garage door parts are installed to serve a specific purpose. Cables are installed to hold the door's weight and pull it open. Springs keep the door open and make its movement possible. Openers enable automatic movement. Sensors provide protection. Rollers roll the door upwards and downwards. With each part doing its job right, the door performs safely and properly, and there are no problems or safety hazards. If any of these components fails to do so due to damage, misalignment or breakage, garage door repair services are required. The services offered by our local company include fixing parts, making adjustments and replacing worn components. We do anything necessary to take care of problems so that your door will be operational and safe and provide our services in a timely manner.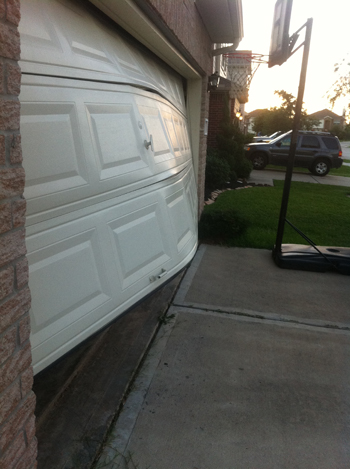 Track alignment
The vertical tracks, which are mounted on the door's jamb, often move from their original position. This happens when the screws securing them against the jamb are loose or damaged. Most often, the damage happens during minor car accidents during parking, for example when the car backs too fast in the wrong direction. Possible dents caused by such accidents are also fixable unless the damage is extensive and the bent track must be replaced. Their alignment involves bringing them back to their original position. This is hardly an easy task. The problematic track must be perfectly aligned with the rest of the tracks and keep a certain distance from the door or the door will bind. Trust this task to our professionals.
Garage door torsion spring adjustment
One of the responsibilities overhead door springs have is to counterbalance the door before lifting it. They manage to do their job right due to their force, but every time they move the door they lose some of their power. The more power they lose the more difficult it becomes for them to open the door. This is when adjustments are required. Tension must be added so that the door will be balanced again. Torsion springs are adjusted by the winding cone. The proper size winding bar must be used to turn the cone as many times as necessary for the door to be balanced. If your door is out of balance, the reverse mechanism won't work right either. Report such problems to us and let our technicians adjust your torsion spring.
Professional repair services in Dunedin
Count on us at Garage Door Repair Dunedin to take care of any problem you have with your door. Some problems are actually urgent. A jammed door, broken pulleys, tangled cables, a door off track and a door not closing all the way are all serious issues putting families at stake and compromising the house's security. In such cases, our company offers same day garage door repair. We also fix any other problem related to the opener or other parts and replace broken or damaged components. From adjustments and replacements to repairs, you can count on our fast response.
Call if you need help or have any questions.