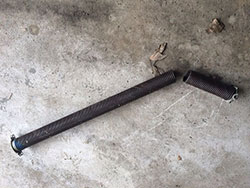 At Garage Door Repair Dunedin, our strong focus is on the torsion spring systems as they are critical to the functioning of the door. They need to be installed correctly first and repaired properly in case of problems as it can be fatal if they are handled by a set of inexperienced hands. We are specially trained and have the right tools to handle any type of torsion spring problems. You can get in touch with us for any type of repair or replacement of both extension and torsion springs as we know exactly what to do in different cases.
- Our expert services
Our experienced fleets of servicemen do more than just repair and replacement. They spend ample time learning new techniques and keeping up with the latest in garage door technology. The problem with your torsion springs may be simple or complex but we can surely find an appropriate solution in a timely manner. Most of our customers contact us during emergencies and we are available to assist them as these springs tend to snap unexpectedly. Our trucks are well-stocked with quality parts so we are ready to handle any situation at both homes and offices. Our customers are always happy that we offer quick service at an affordable cost always.
You may own a Clopay torsion spring or just any other brand. Our large spring inventory has all types of Garage Door Extension Springs so you can find the right replacement that matches the size and type of your existing spring. Perhaps you have installed a new door or replaced an existing one, get the springs checked by our experts as it needs to offset the weight of the panels. If they are heavy, we can even replace the extension springs.
Contact us today as we are always ready to assist in every way.